Life & Dreams
Mio Mora is a company dedicated to celebrating strong women. Our focus is on the voice and expression that is every strong woman's personality. Our desire is to create a lifestyle that expresses every woman's individual story, reflects her experiences, heart, achievements and evolution. Mio Mora is for people that also seek art, beauty and creativity in the world around them and would like to discover passion and love for Indian jewelry. We design, create and curate Indian jewels with a global appeal, such as jewelry in silver and semi precious stones, traditional fashion and modern fusion jewelry. All our jewels are handmade in India. We use the highest quality of silver and natural semi precious stones. We work with national award winning artisans, some of whom have been in the jewelry making business for generations. Most of the artisans we work with are women, thus furthering our belief in the uniqueness of every woman and her own belief in herself. At Mio Mora, we strive to personify hand-made jewelry and clothes made in a traditional way whilst speaking of our heritage, and keeping the renowned stories alive from our culture; thus bringing our culture into the modern global world. Mio Mora's jewelry collection is a representation of both our personal journeys, as they retain the best of everything we see in the world around us.
ANU KOCHHAR, CEO & Founder (L)
RATI BAWA, Chief Creative Officer & Co-founder (R)
The women who help us create our dreams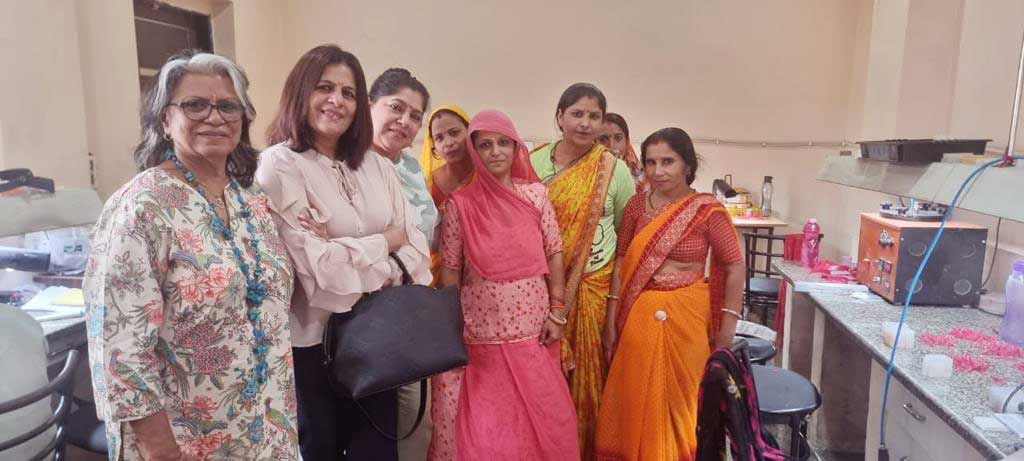 Anu Kochhar
CHIEF EXECUTIVE OFFICER
Mio Mora was inspired from my passion for traditional and intricate jewelry created by Indian Artisans. Growing up in Delhi and visiting Jaipur often, I was always amazed by the exquisite jewelry made in Kundan, Polki, and Meenakari, as well as the beautiful stone settings called "Jadau" done by the "Karigar's".
I spent hours in art fairs such as Dilli Hatt and Suraj Kund, meeting skilled artisans and seeing their eyes light up as they talked about their intricate process of making jewelry, embroidery and weaves.
What always astounded me was that none of these artisans were well-known or part of a large company; rather, they learnt their work traditionally: growing up in villages or as part of small factories. My inspiration for Mio Mora stemmed from their humbleness, diligent work, and down-to-earth attitude. I dreamt of wanting to promote Indian Artisans and their work, as well as the traditional Indian culture and heritage, that I have always loved.
Rati Bawa
CHIEF CREATIVE OFFICER
The jewelry I design and curate is the expression I found, to give form and beauty to my story.
I believe that just as precious metals and semi precious stones are melted, moulded and carved to bring out their brilliance and beauty into a unique form that gives so much happiness to the wearer; in the same way, every woman is enhanced by her experiences and ordeals, making her the unique individual she becomes.
To me, every woman is a unique individual who wants to live her achievements, love and creativity in her own way, with freedom.
I love authenticity and natural materials of the highest quality within a given budget.
Being a woman, I am sensitive towards the personality of the women for whom I am creating.
As an artist I interpret jewels as art for the body that sends a message about the individuality of women. What you finally get from me are pieces of my own heart and soul in the form of jewels.
Women who have inspired us
There are two women who have truly inspired us in our journey. Neeru Saluja, a retired professor and principal of Maharani Gayatri Devi College for Women in Jaipur, Rajasthan; also an avid world traveller. She is one of the most fiesty women in our lives and also Rati's aunt and extremely close to her heart. She has been a fabulous inspiration of how to live life to the fullest and to face the adversities life throws at you with courage, wisdom and elegance. Her unique style and love for jewelry carried us from our floundering days to now and beyond. A big thank you and loads of love to her from both of us!
Ayesha Saluja, a super mom, teacher par excellence and beautiful soul, is Neeru's daughter-in-law. Even though she was never too fond of jewelry, being more of a tomboy, but tirelessly helped us in our journey to find new styles and designs for our business. And we are extremely proud that we were able to change her mind about appreciating and wearing more jewelry with delight! It sure gladdens our heart when we see the mother-in-law and daughter-in-law duo bond even more over their love for beautiful jewelry! Thank you Ayesha for being our motivation to inspire more women in our quest. Lots of love from both of us, keep shining bright!